NOA Medical Products
About NOA Medical
For over 30 years NOA Medical Industries has been a leader in innovating and designing targeted medical beds for the health care industry. Starting in 1989, NOA Medical began designing adjustable height beds for the Long Term Care market that would meet the unique needs of the aging population. NOA bed models have since grown to include our Elite Bariatric bed, our Elite EX offering an expandable deck both in width and length and our Elite II, offering several added features as standard in the design. Superior product design and function, combined with a competitive price and unparalleled customer service has made NOA Medical a leader in the LTC market throughout the United States and Canada. NOA has since increased our reach to include the Caribbean and Latin American markets.
First Class Customer Service
Call Us
For Customer Service, Call 1-800-633-6068 Hours: Mon-Fri, 8am to 5pm CST.
Request Info
Fill out a form and one of our representatives will be in touch with you soon.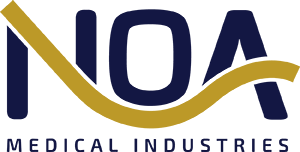 Ask About our Free Demo!
Experience the quality and safety of our products first hand with our 30 day trial. Contact us today to get started.
What Our Clients
are Saying
The support received throughout the entire sales process is second only to the service received throughout the ownership of the bed…I can confidently refer customers to NOA knowing that they and the residents they serve will be in excellent caring hands.

Jamie Manning, MSS, RNGericare Medical Supply, INC.
What we love best about working with NOA is their excellent customer service…A successful company has two major components, a superior product and excellent customer service. I love working with NOA Medical because they have both!

Robyn Nielsen, Healthcare Design SpecialistGericare Medical Supply, INC.
We have worked with NOA for over 10 years and their quality and customer service has been great. They offer a wide variety of beds to fill our customer's needs.

Michael Gentile, PresidentEmerald Resources Healthcare Inc
We have been working with NOA medical for 15 years. During that time NOA has been INNOVATIVE and supportive offering a BROAD range of beds and accessories. When buying a NOA product you can be assured that the product will LAST, and support will be available.

Mark Golubow, Sales RepresentativePres MAG Medical
Hoffman NOA Medical Industries, LLC.
In 2021 NOA Medical Industries, Inc. was purchased by the Hoffmann Family of Companies, and rebranded as Hoffmann NOA Medical Industries, LLC. The Hoffmann Family of Companies has over 240+ operations worldwide and supports many worldwide charities, arts, and civic organizations.