The NOA Elite Riser Bed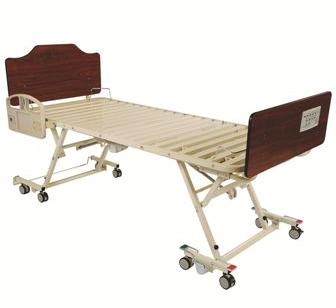 Elite Riser Bed: Faster and Quieter moves Straight Up and Straight Down, 7.5" to 28"
The NEW NOA ELITE RISER BED swiftly moves from 7.5" to 28" powered by whisper quiet motors. It is lighter than most high/low beds and can be easily moved at any height and in any position. The Elite Riser Bed moves quickly straight up and straight down so there is no horizontal translation, thus eliminating wall scratches or gouges. The new safety lock option on the Elite Riser bed makes it one of the safest beds on the market. The NEW Elite Riser Bed is also available with a wider sleep deck for increased comfort.
Features
High- Low function from 7.5" to 28"
Bed goes straight up and straight down
Swivel braking casters at all four corners
Bed rolls and locks at any height
600 pound safe working load
Rectangular rib steel deck sleep surface provides a smooth safe surface, long linen life, excellent mattress aeration, and ease of cleaning
Entrapment compliant with properly sized mattress
Easy to maintain
Faster
Quieter
4 year warranty on electronics
Specifications
| | | | |
| --- | --- | --- | --- |
| Bed type | 76" length | 80" length | 84" length |
| bed width | 35" | 35" | 35" |
| bed width, with side rails | 40.0" | 40.0" | 40.0" |
| bed width, with assist bars | 36.5" | 36.5" | 36.5" |
| sleep deck length | 76.0" | 80.0" | 84.0" |
| overall bed length | 80.5" | 84.5" | 88.5" |
| deck height range | 7.5" to 28" | 7.5" to 28" | 7.5" to 28" |
| safe working load | 600 lbs | 600 lbs | 600 lbs |
Optional Features
Safety Lock for Immobilization
Head and Foot Boards
Side Rails, ½ Length
Full Overbed Trapeze
High Impact Plastic head and foot boards-Standard Laminate Colors
In-Rail Mounted Pendant
Footboard Mounted Staff Control
Assist Bar Left, Right and Universal
Floor Pad, 2" thick x 2' x 6'
Therapeutic Foam Mattresses
Product Part Numbers
| | |
| --- | --- |
| Product Description | Product Part Number |
| Elite Riser 76"x35" | 1050007bei |
| Elite Riser 80"x35" | 1050008bei |
| Elite Riser 84"x35" | 1050009bei |